Hey Readers!
As I'm sure anyone in the Commonwealth is aware of, Kate Middleton has had her baby! And do you know what, I am happy and I am celebrating on the inside (I have no real facilities in my house). GASP! A feminist could be happy about a royal birth?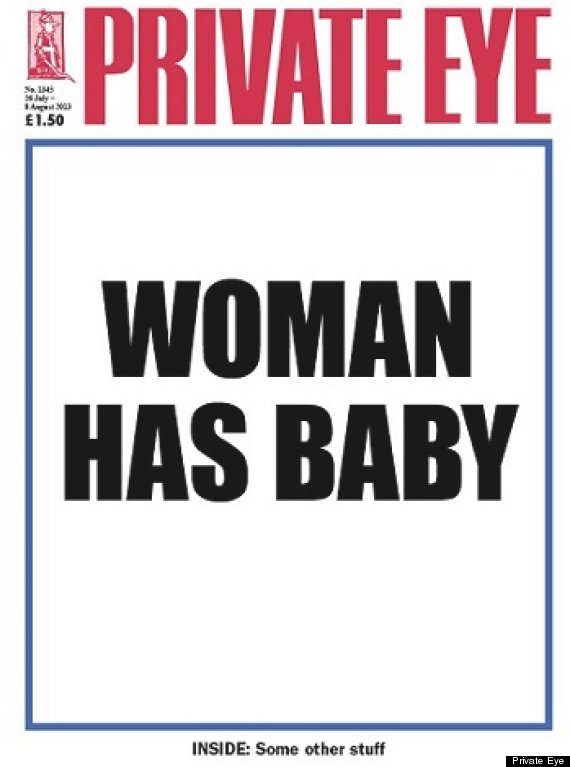 I know that the feminist community is going to explode with "It's just a baby, blah blah, thousands of
others will be born today" (some of the first posts I saw when I woke up this morning) as well as a load of people in the UK will. But I would just like the chance to say that I feel this baby should be celebrated, not despite feminism, but because of it.
The only time I ever here about fetus/baby/pregnancy related news is in regards to either abortion, premature births or single parents. Which, let face it, aren't the happiest of things. But for once we are celebrating a healthy baby, born to two loving parents with a supportive family. That is one of the most natural yet precious and underrated things that can happen. As a feminist I feel this is what we should be aiming for every child to have (although one loving parent is often as good as two), and this serves as a reminder as to why access to abortion is so important.
This is going to be one attractive King
Also, the gender: can people please shut up about the gender. The whole point about the legislation that meant an older sister would not be overtaken by a younger brother in the race to the throne is that the
gender no longer matters
. BAM! Isn't that what we kind of believe of as feminists? So for feminists disappointed that the baby isn't a girl, just remember that this is the first prince who will become King because he is a royal, not because Prince William so kindly donated a Y carrying sperm when he and Kate cuddled in a special way one evening, which is just as good as a girl not becoming Queen because of her XX. Wanting a girl so that we can have a Queen is equally as bad as wanting boy to become King, in my opinion.
Thirdly, there is no escaping that this child will become a cultural icon. He will grow up to become our King and in doing so a symbol of our culture and heritage. However he will not grow up to be our ruler and ever have any real power; that will be left for our elected politicians. And honestly, who prefers David Cameron to the Queen?
Gwendolen
P.S. Congrats to everyone who had a child yesterday as well, I hope you enjoy your royal care package!